How to make sure OKR isn't just a dangerous buzzword but becomes the basis of your corporate culture
Some firms resemble authoritarian regimes in their people management, in others bureaucracy reigns, and then there are firms founded on a belief in the people that create them. In firms where team autonomy is more than just wishful thinking, bosses seek to manage effectively and at the same time give everyone the space and power to make decisions. OKR is a way of thinking that supports team autonomy.
The acronym OKR stands for Objective and Key Results – in other words it is a method for defining and achieving goals. It's based on the idea that when a firm knows where it is going and how to recognise when it has reached that point; it doesn't need to define each step of the way beforehand. This method of managing a firm or team forces you to describe the goal using perhaps three key measurable results, and it is therefore easy to recognise whether or not the goal has been met.
The magic of OKR lies in the fact that when a single corporate goal has been set, individual teams can support it through their own goals and therefore strengthen autonomous decision-making in the firm. Many foreign firms (e.g. Google, Netflix, Amazon) look at their goals in this way, as do a number of domestic firms. Heureka Group has recently adopted OKR and is now actively sharing its experience with other firms.
We believe it is not at all necessary to explain the term OKR (Objectives and Key Results) in detail in the tech community. It's something which is already being talked about and, likewise, some firms are already using it. It's a framework used by inspirational firms such as Google or Netflix. Yet you can't manage a firm using OKR just like that: we've been working with it in Heureka Group for two years already. We started out with small teams in product and development. Only when we'd tested it and discovered it made sense for us did we obtain management support, and then started rolling it out to the whole group in the spring.
Let's be clear about one thing: managing a whole firm using OKR when at least half the employees have no kind of product-development background is not so simple. Nevertheless, at Heureka Group we decided to start gradually 'buying' colleagues for OKR from sales, customer support, marketing, and reception in all the countries in which we operate.
Why did we start with OKR?
Three years ago we had a vision. In product and development we wanted to eliminate complex road maps and the long-winded and ineffective defining of concrete projects and management deadlines. We wanted a tool that gives specific teams – carefully dedicating themselves to their defined areas – the possibility to decide what it is necessary to do and when.
We were looking for a tool to help us indicate a clear and common goal, as we all need to know that goal and be in line with it. When this has been done, you can simply let the autonomous teams – which are capable of ensuring their work will have a real impact and be successful – find their own paths to that goal. This applies in both everyday activities and when developing services and products. In short, we needed a tool to help us concentrate on the important things and the corporate goals.
OKR promised us exactly this, which is why we started experimenting with them in small teams in product and development almost two years ago. We tested them and found they really did help us develop our services in a direction that made sense. They supported and developed team responsibility and autonomous decision-making. They also gave us demonstrably better results.
Those responsible for a specific area best know where there are small inefficiencies in processes or in the products themselves, and are capable of finding better solutions than eight managers sat round a table. In addition, we verified that OKR also has the power to unite different teams in the path towards a common goal. This is another huge advantage that we found a convincing reason to further expand them through the firm.
After experiments in product and development, we presented and introduced OKR in marketing, business development and sales, i.e. in the Czech teams with which we closely work. We started showing the results to the firm's top management and teams, and attracted their attention. Our results spoke for themselves, and no further persuasion was necessary.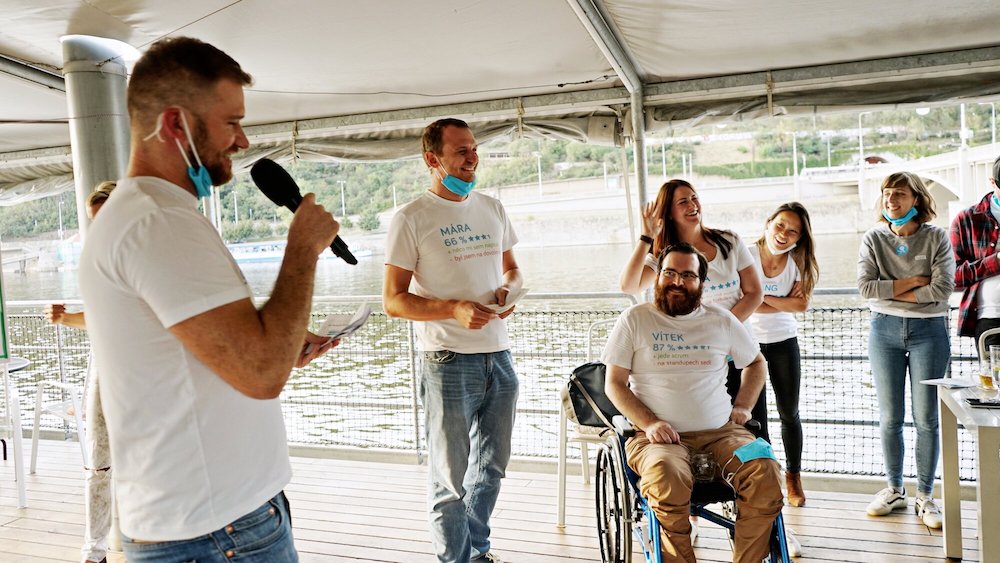 Along with Marek Grynhoff, our CPO, we tasked ourselves with teaching all the teams across the group to use OKR effectively in the first half of 2020. Coronavirus meant we had to cut the online path, but even so we now really understand the 'OKRers' and have ambassadors (usually team leaders) in Heureka who help us explain them and promote the group further.
---
What are OKRs?
OKR stands for Objectives and Key Results. In other words, it is a method for defining and achieving goals. This framework helps us understand a company's goals and priorities and how people can contribute to them.
Objective
Ask yourself "Where are we going? What do we want to achieve?" The objective has to be short, inspirational, and engaging. It should motivate and challenge people.

Key Results
Ask yourself "How do we know we are where we want to be? How are we going to measure that?" Key Results need to be quantitative and measurable.

---
Three tips to think about before starting with OKR:
1. You can forget about OKR without support from top management.
That's obvious, but we still need to mention it. Although OKR is simply a tool, it brings about great change in a company. And when top management is not on board, you won't manage OKR. Yet what exactly is meant by support? It's not just a word: it's about discipline. The corporate OKR that forms the basis for all the teams must be defined by top management according to the same principles as other teams.
It doesn't end with the definition. You need to regularly return to them and see what progress has been made, and whether as a firm you are getting closer to your set goal. Management must take an active interest in how other teams are helping fulfill the group or corporate OKR. If your management doesn't see the point in these activities or if it doesn't have the discipline to regularly return to them, you will never manage the firm according to OKR. You will have a tool that is toothless and you should not expect it to make an impact (goal focus, quick progress, strengthening team autonomy and quicker decision-making).
2. OKR alone isn't enough, and KPIs must not be taboo.
OKR is principally appropriate for development. With their help, you can define ambitious yet achievable goals. With OKR you are primarily looking for paths towards your own improvement and greater effectiveness – in short, you need to use them to organize change and progress. It sounds great, but when you consider what makes money for your firm or what activities you engage in, you will no doubt discover you have teams you want to maintain their good practices and results and want them to improve in small steps.
You must have the capacity to deal with the tasks that will gradually arise. Customer care, for instance, can't be evaluated and managed simply based on what improvements and ambitious goals you have thought up. The fact that you do your work well (you respond to customer requirements quickly and effectively) is no less important for your firm's reputation.
"Even though it was only a handful of cases, our corporate culture has already cost us several employees. OKR and autonomy are not for everyone."
This is where the familiar KPIs come in. These are suitable for dealing with current needs and challenges in processes we have named 'business as usual' – standard company operations. No team in a firm can dedicate itself to development 100%. It will always be at least partially responsible for some work that falls into the category of standard operations.
So it's best to find an intersection between KPIs and OKR. Allow these two tools for setting key elements for the success of your firm to communicate with each other. How? Allow them to simply coexist next to each other, but ensure they complement each other and together help achieve your firm's goals.
3. A corporate culture doesn't come about overnight, and you can't force it on anyone – it needs time.
In order for OKR to work for you, you need a company culture based on individual responsibility and team autonomy. That needs time. First of all, you have to patiently explain what it is good for. Then, through trial and error, you reach a state in which at least some of your teams have responsibility for their own decisions and will not need concrete deadlines and instructions from managers (a few minor successes, compliments and victories are enough).
You can only approach a team with OKR when the people in that team feel and perceive responsibility for their specific area – an area they understand very well in the company context. We ourselves have sometimes been annoyed by OKR not being rolled out in the firm quickly enough, and that there are still employees amongst us who want to receive tasks and not think about their department as a whole that they can continually improve. We also have to admit that although it was only a handful of cases, our corporate culture has already cost us several employees. OKR and autonomy are not for everyone.
We now know that beforehand we couldn't say with a clear conscience that we would successfully manage our development and decision-making through OKR. We had to get there gradually, to mature and to unite as a firm. We had to experience how freedom also brings responsibility – not only for success, but also when not everything always works out. We had to learn not to point the finger of blame in such situations but to find the lesson to ensure the same situation didn't occur again.
It might sound banal, but if your corporate culture is not up to this, our experience indicates that OKR is not suitable for you. Forget the buzz around this way of thinking and managing a firm, and find a way that suits you. Choose and mix them, for instance, as we have done in linking OKR and KPIs. Above all, don't rush into changes just because everyone is talking about them. Have your objective and the metrics to measure whether you have achieved it. Fingers crossed!
Interested in our work, technology, team, or anything else?
Contact our CTO Lukáš Putna.
lukas.putna@heureka.cz